*Disclosure: Disney Mamas was provided with a copy of Disney Infinity 2.0 and supporting items to review. Even though this product was provided at no cost the opinions expressed below are always our own.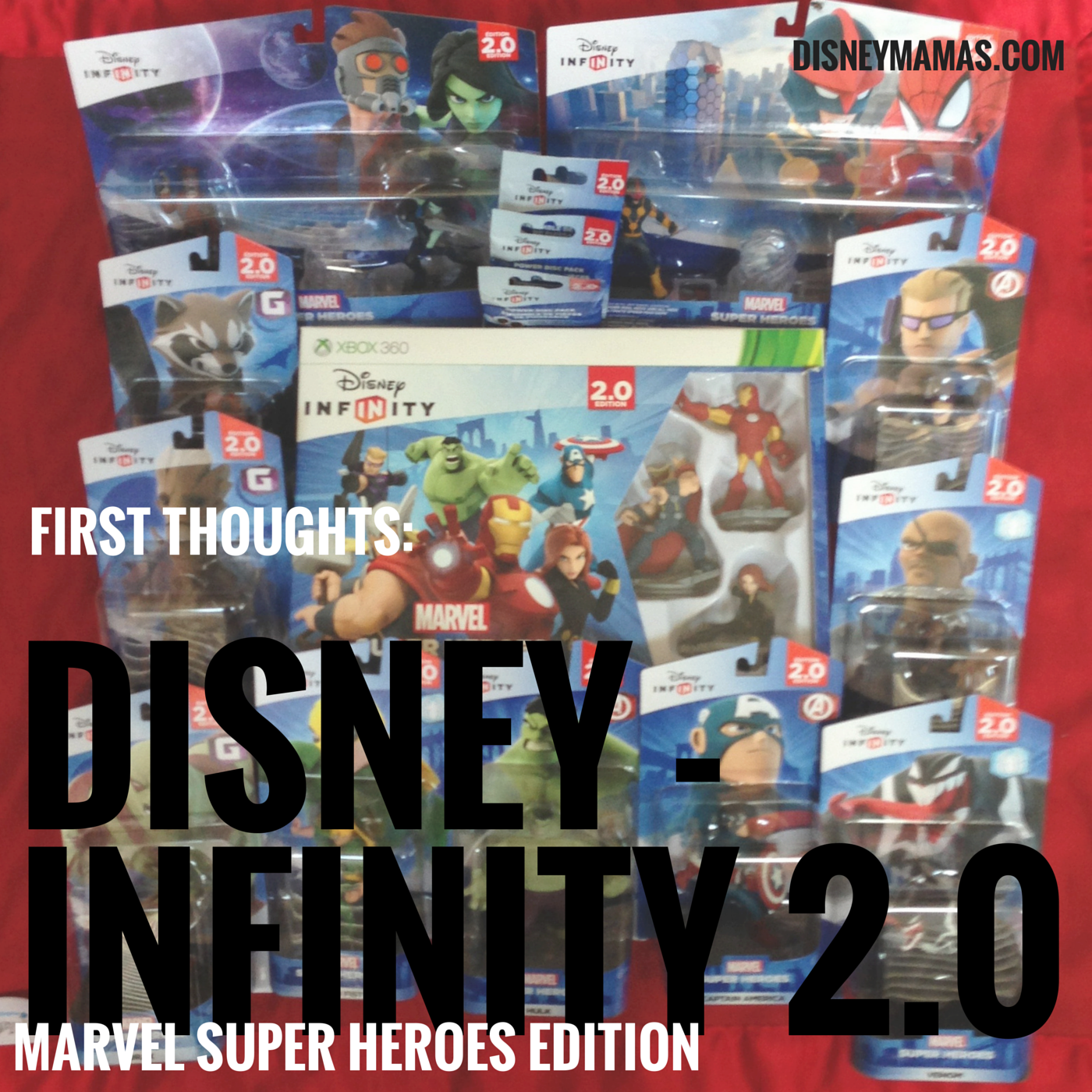 Our weekend kicked off in a major way when I discovered a lovely box on my front porch filled to busting with a copy of Disney Infinity 2.0 Marvel Super Heroes Edition for Xbox 360, Spider-Man and Guardians of the Galaxy Play Set and additional Disney Infinity 2.0 characters. Let's just say that one soon to be 5 year old boy thought his birthday and Christmas had come early, and his Daddy was just as excited. So, much of our weekend was spent testing out the new Disney Infinity 2.0.
My husband  wanted to make sure that we shared our initial thoughts with you all as quickly as possible. So here goes!
Disney Dad Chris's Thoughts on Disney Infinity 2.0
It's a great game, very similar to the original, making for a a seamless transition, even for our (almost) five year old.
In 2.0 the characters can actually be defeated, sending you back to the last checkpoint in single player mode. In two player mode, upon defeat you must wait for your compadre to come to the rescue, which can be a long time if your (almost) five year old doesn't understand that concept and leaves you hanging.
They've added an onscreen radar showing mission objectives, mission givers, friends, and foes in your vicinity.
The mission guide is much improved over the original game, providing not only direction, but relative distance.
We haven't cracked it yet, but there is a device that allows character crossover, once you collect five of that character's coins.
The starter pack comes with enough characters to play as two players without additional purchases.
It appears as though the difficulty level can be changed, mainly for opponent strength…will explore that more in the next few days.
There are several different types of sparks…that actually do things…green sparks, for example, renew your character's health.
Overall we've had a great time with it and I'm sure we're only just scratching the surface.