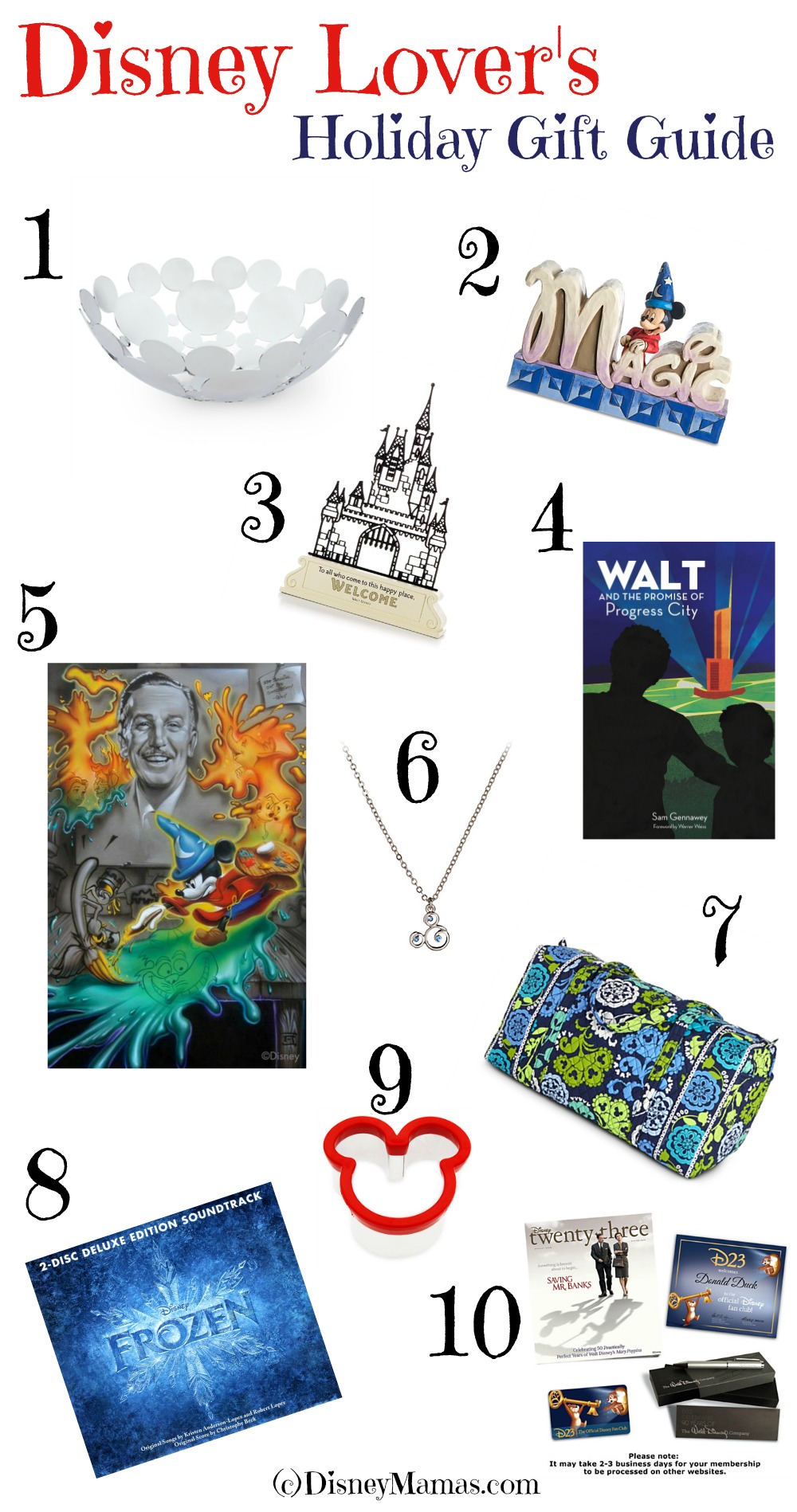 Shopping for the Disney Lover in your life can sometimes be a challenge, (or so my husband tells me!).  It's easy to get caught in the cliche Disney item trap and wind up with new Mickey pajamas every year.  While there is absolutely nothing wrong with Mickey pajamas, there are so many more options out there!  So, to help you all out I've put together a list of ten awesome, Disney-centric holiday gifts to give you some ideas.  May I present my Disney Lover's Holiday Gift Guide!
1.  Mickey Mouse Icon Metal Bowl from Disney Store
This adorable bowl would look great on the kitchen table filled with bright red apples, or on a coffee table with some decorative items!  It's a great size, and the Mickey icon pattern is subtle enough to fit in with almost any decor.
2.  Sorcerer Mickey "Magic" Figurine by Jim Shore
Jim Shore does an amazing job capturing the feelings of Disney characters on his sculpture pieces.
3.  Castle Silouette Collectible from Hallmark
Hallmark's partnership with Disney just keeps getting better.  Their line of decor is understated and breathtaking.  Many of the quotes contained on the pieces are about home, family and friendship!
4.  Walt and the Promise of Progress City book by Sam Gennaway
Any fan of the Disney Parks needs this book.  I first learned about it through the TouringPlans.com podcast with Jim Hill, and am anxious to get a copy!  Mr. Gennaway did a walking tour of the Disneyland Park over a few episodes of the podcast to preview the book, and the information about the conception, building and progress of Disneyland under Walt's leadership was fascinating.
5.  "Remember…It All Started With a Mouse" print by Noah Fine Art
I'm a HUGE fan of Noah Fine Art.  His Disney Collection is indescribable.  Definitely go check his work out, and while you're there pick out the perfect piece for the Disney Lover in your life!
6.  Mickey Mouse Icon Necklace by Arribas Brothers
My Nana gave me this necklace over the summer, and I wear it daily.  The price point is perfect for a child to give, and the quality is great.
7.  Where's Mickey? Bag by Vera Bradley
The newest Disney pattern by Vera Bradley is my favorite of the three released thus far.  They just keep getting better.
8.  Frozen Soundtrack by Walt Disney Records
Fantastic soundtrack.  A must have for anyone who likes to belt in the car!
9.  Mickey Mouse Sandwich Cutter from Disney Store
Another item I have and love.  While it is labeled as a sandwich cutter, I've used mine for cookies, rice crispie treats and art projects.  The walls of the cutter are tall, and the thing is durable!
10.  D23 Membership from Disney Store
Special items, exclusive products, and great savings on Disney entertainment, merchandise and more.  To learn more about a D23 Membership check out this previous post!  It's the gift that keeps giving all year long.
There you have it!  My Disney Lover's Holiday Gift Guide!  What item would you most like to see under your tree?