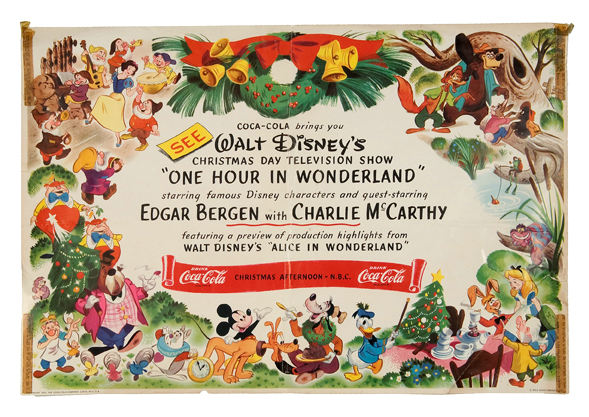 Walt Disney's first television production was a Christmas special. On Christmas Day, in 1950, One Hour in Wonderland was broadcast on NBC and sponsored by Coca-Cola.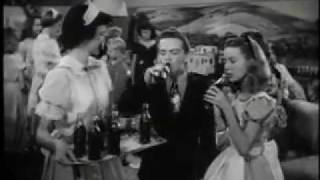 The story begins with Edgar Bergen, Charlie McCarthy and Mortimer Snerd driving to the Disney Studio to attend a tea party. Upon arrival, Walt informs the guests that he was able to purchase the Magic Mirror from Snow White (I guess she inherited it from her stepmother). The Mirror then entertains the party guests by taking requests:
Kathryn Beaumont (voice of Alice) asks to see a scene from Snow White and the Seven Dwarfs.
Charlie gets the Mickey Mouse short, Clock Cleaners. (Walt voices Mickey in this one.)
Bobby Driscoll (Johnny in Song of the South) receives a Br'er Rabbit story.
Mortimer is presented with a Pluto short.
Edgar is shown a performance by Firehouse Five Plus Two (a jazz band made up on Disney studio animators).
Last, but not least, the Mirror reluctantly shows a scene from Alice in Wonderland. (It is a special to promote the film, after all).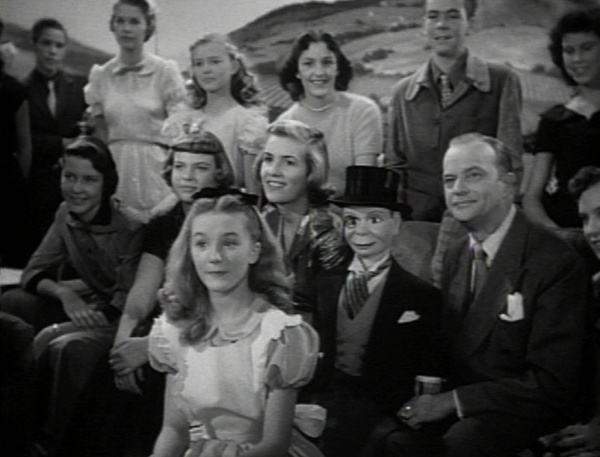 In one special scene, while Walt hams it up with the Magic Mirror, ventriloquist dummy Charlie McCarthy turns to two girls and asks, "How hammy can you get? Do you girls know this character, Disney?" The first girl, Diane, responds, "Yes." The second girl, Sharon, says, "He's our father."