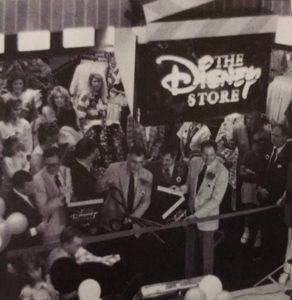 March 28, 1987 – the day Michael Eisner and Frank Wells cut the ribbon on the first Disney Store in Glendale Galleria. I was not there at the beginning, but I started my tenure pretty soon after. My first role was a for a holiday position at Dallas Galleria, Store 87. We opened on November 18, 1990 – Mickey's 67th birthday. I then moved over to Collin Creek, Store 94 where we celebrated the opening of the first 100 Disney Stores during our second week.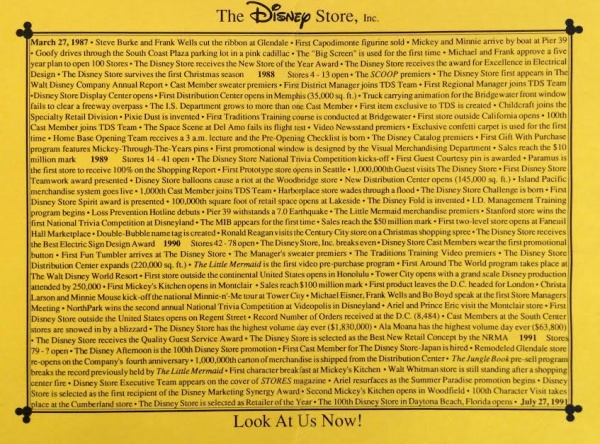 From there I worked at two other locations, Valley View and Stonebriar Center. The early years were exciting. Traditions, the cast member training program, was conducted by a Walt Disney World training lead flown in for the event. We wore Mickey Ears for grand opening and there were always gifts at the monthly cast member training meetings. I stayed with the Stores for another 15 years and they were the some of the best years of my life.
During my tenure, the Disney Store expanded from one little test store in Glendale to hundreds throughout the world. I witnessed the opening of the first international store on Regent Street in London.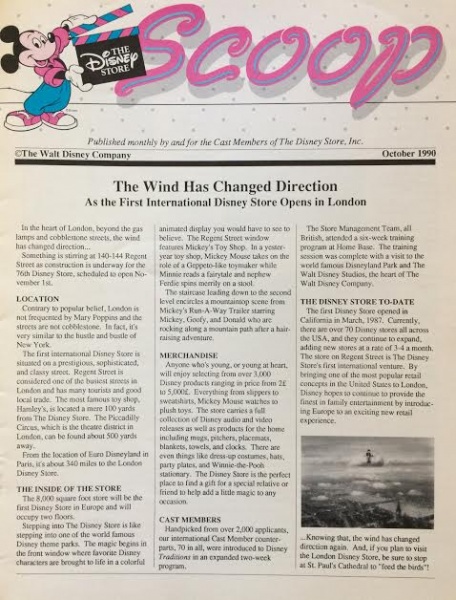 As the growth continued, stores opened in Germany, Japan, Australia and beyond – recreating Britain's triumph of "the sun never setting" on a Disney Store (yes, that was in some of the synergistic material). There were prototypes over the years that just didn't take off like Mickey's Kitchen, The Walt Disney Gallery Store, Club Disney, Disney Play & Disney Kids and the Disney Soda Fountain and Studio Store.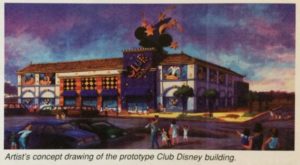 The first major theme park addition I was a part of, was the opening of Toontown at Disneyland. We hosted a touring event promoting the new land. Mickey, Minnie, Donald and Roger Rabbit came to visit along with City Hall and Miss Daisy.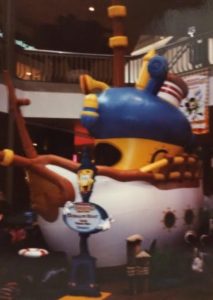 Our next theme park promotion was selling opening day tickets to EuroDisney (Disneyland Paris). Then we saw the opening of Disney's Animal Kingdom, Disney Cruise Line, Disney's California Adventure, Tokyo DisneySea and Hong Kong Disneyland.
Even though I witnessed a lot of history and growth in the Walt Disney Company during my tenure, the best part of working at Disney Store are the things I learned:
How to stab a straw through a potato.
There are Disney geeks just like me. There are people who know more about Disney than I did – that was a first – and had won the National Trivia Showdown, my assistant manager Michael. Which brought Dave Smith to our store to hand off the trophy!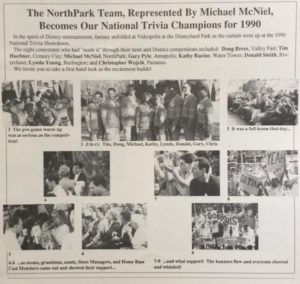 How to fold a t-shirt perfectly in order to make them a uniform size and Mickey's buttons line up.
How to arrange plush characters in order to see every eye and make perfect pie shaped wedges.
How to maintain panty hose so there are no visible runs or tears while doing tasks like crawling or climbing ladders.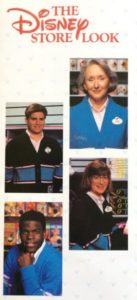 Not all characters have a name – per the request of our favorite elderly mall walker, Donald, we called the Archives to find out the names of the birds in the animation window. They were from Snow White and had no names, he decided to name them himself. (p.s. his favorite cast member was a girl named Daisy)
You get to climb above the show line and dust the characters!
Smiling makes your cheeks hurt.
How to spell Dalmatian after sending an entire assortment of product back for repackaging.
All Seven Dwarfs will fit in your pocket. And it's best to tell the cast member they do before you leave the store. (Dwarves is misspelled and can result in a product recall as well.)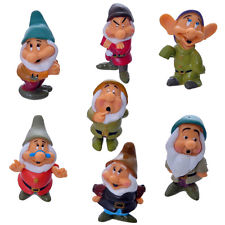 You are the magic of Disney to families who may never get to visit a theme park.
A psychic medium can read your tarot cards while she is shopping.
Flounder makes a great football.
The characters can talk, and sometimes they aren't nice.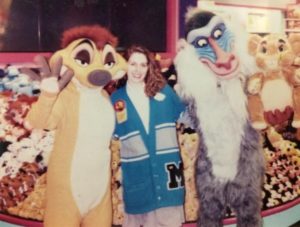 How to move through a mad, holiday crowd and dodge toddlers who can turn on a dime.
A name badge can be one of your most treasured possessions.
Your fellow cast members are family and you make friends for life.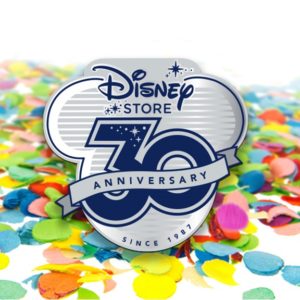 Happy birthday Disney Store. Here's to thirty more years!!