Frontierland and Adventureland are probably the least changed lands in Disneyland's 60 year history. Let's take a look at how they have changed this week.
FRONTIERLAND
"Here we experience the story of our country's past…the colorful drama of Frontier America in the exciting days of the covered wagon and the stagecoach…the advent of the railroad…and the romantic riverboat. Frontierland is a tribute to the faith, courage, and ingenuity of the pioneers who blazed the trails across America."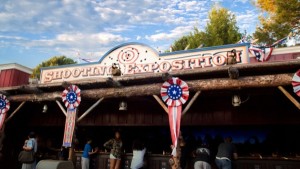 Frontierland Shootin' Exposition (1996-present), The Frontierland Shooting Gallery (1957- 1996)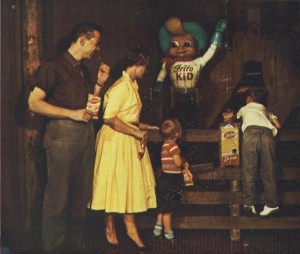 Rancho del Zocalo (2001-present), Casa Mexicana (1982-1999), Casa de Fritos (1955-1982) Where you could drop a nickle into the slot and  a bag of delicious Fritos corn chips appears from the Kid's gold mine.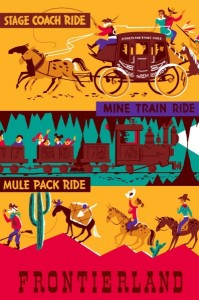 Big Thunder Mountain Railroad (1979-present): Conestoga Wagon (1955-1959), Rainbow Mountain Stage Coach (1956-1959)/Stage Coach (1955-1956), Pack Mules Through Nature's Wonderland (1960-1973)/Rainbow Ridge Pack Mules (1956-1959)/Mule Pack (1955-1956), Mine Train Through Nature's Wonderland (1960-1977)/Rainbow Caverns Mine Train (1956-1960) & Mineral Hall (1956–1963)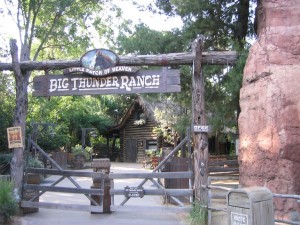 Big Thunder Barbecue/Celebration Roundup and Barbecue (1986-present), Little Patch of Heaven Petting Farm (2004–2005), Hunchback of Notre Dame Festival of Fools (1996-1998), Big Thunder Ranch (1986-1996)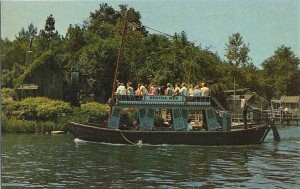 Rivers of America: Mark Twain Steamboat (1955-present), S. S. Columbia (1958-present), Davy Crockett Explorer Canoes (1971- present, seasonally)/Indian War Canoes (1956-1971), Mike Fink Keel Boats (1955-1997) Keel Boats were used in filming Davy Crockett and the River Pirates.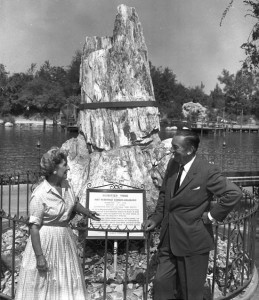 Petrified Tree (1975-Present) Walt's gift to Lillian on their wedding anniversary in 1957, she donated it to the park.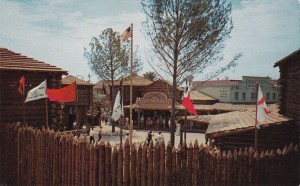 Davy Crockett Museum (1955-1956) Currently occupied by Pioneer Mercantile.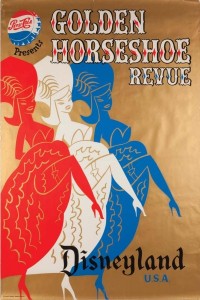 Golden Horseshoe Saloon (1955-Present) featuring – Golden Horseshoe Revue: (1955-1986) listed in Guiness Book Of Records for the longest running stage show and was the location of Walt & Lillian's 30th Anniversary party prior to the park's opening. The All-New Woody's Roundup stage show (1999- 2000)
Dixieland Bandstand featuring the Strawhatters (1955-1961)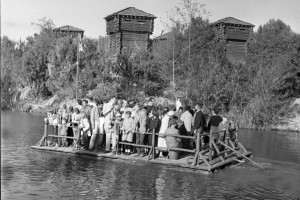 Tom Sawyer's Island (opened to guests 1956-present), remodeled projects occured in 2003, Pirate's Lair added in 2007.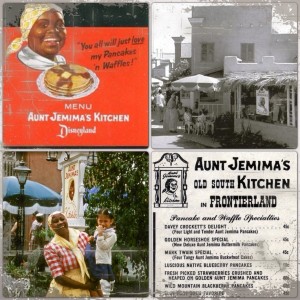 River Belle Terrace, Magnolia Tree Terrace (1970-1971), Aunt Jemima's Kitchen (1962-1970), Aunt Jemima's Pancake House (1955-1962), Don DeFore's Silver Banjo (1957-1961) Aunt Jemima was a favorite character for photos at the restaurant.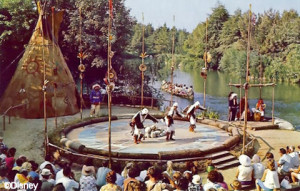 Hungry Bear Restaurant (1972-present), Indian Village (1955-1971)
The show was so important to Walt that once an employee parked too close to the Rivers of America. The vegetation was so sparse that the car was visible from the Mark Twain. Walt saw it and came running up in a floppy hat, waving his arms and snapped, "What are you doing here in 1860 with a 1955 automobile?"
ADVENTURELAND
"Here is adventure. Here is romance. Here is mystery. Tropical rivers – silently flowing into the unknown. The unbelievable splendor of exotic flowers…the eerie sound of the jungle…with eyes that are always watching. This is Adventureland"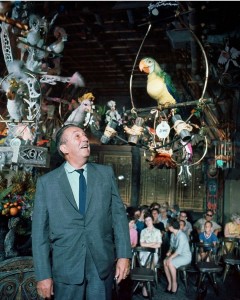 Enchanted Tiki Room (1963-present) The first Audio-Animatronics attraction.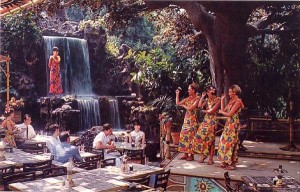 Aladdin's Oasis (1993-present, seasonally), Aladdin's Oasis and Dinner Show (1993-1995), Tahitian Terrace (1962-1993)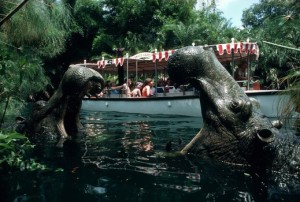 The Jungle Cruise (1955-present) Walt wanted real animals for the attraction, but realized they would be sleeping and dull most of the day. So, Bob Mattey was hired to develop the animals (he created the squid in 20,000 Leagues Under the Sea). Today the Jungle Cruise has its own ecosystem with natural air conditioning.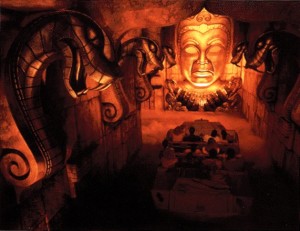 Indiana Jones Adventure: Temple of the Forbidden Eye (1995-present)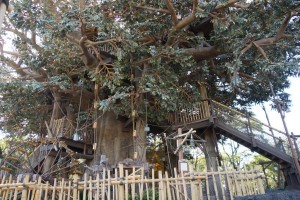 Tarzan's Tree House (1999-present), Swiss Family Treehouse (1962-1999)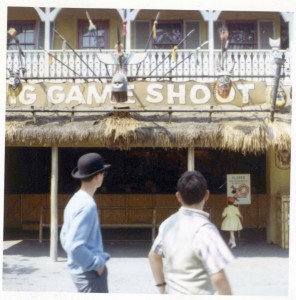 Big Game Safari Shooting Gallery (1962–1982)