My wallet is in trouble. The 2014 Disney Store Holiday Shop is now open online! I just took a quick peek at the merchandise selection, and I am IN LOVE!  I was so excited by the collection that I was compelled to share it with all of you!
This year's Disney Parks Exclusive holiday merchandise features a vintage look reminiscent of the idealized 1950's, with soft colors like mint green and cream throughout. Truly beautiful pieces! We are in desperate need of a new tree skirt, and I believe I have finally found The One. Just take a look at the beautiful retro ornament shapes and colors!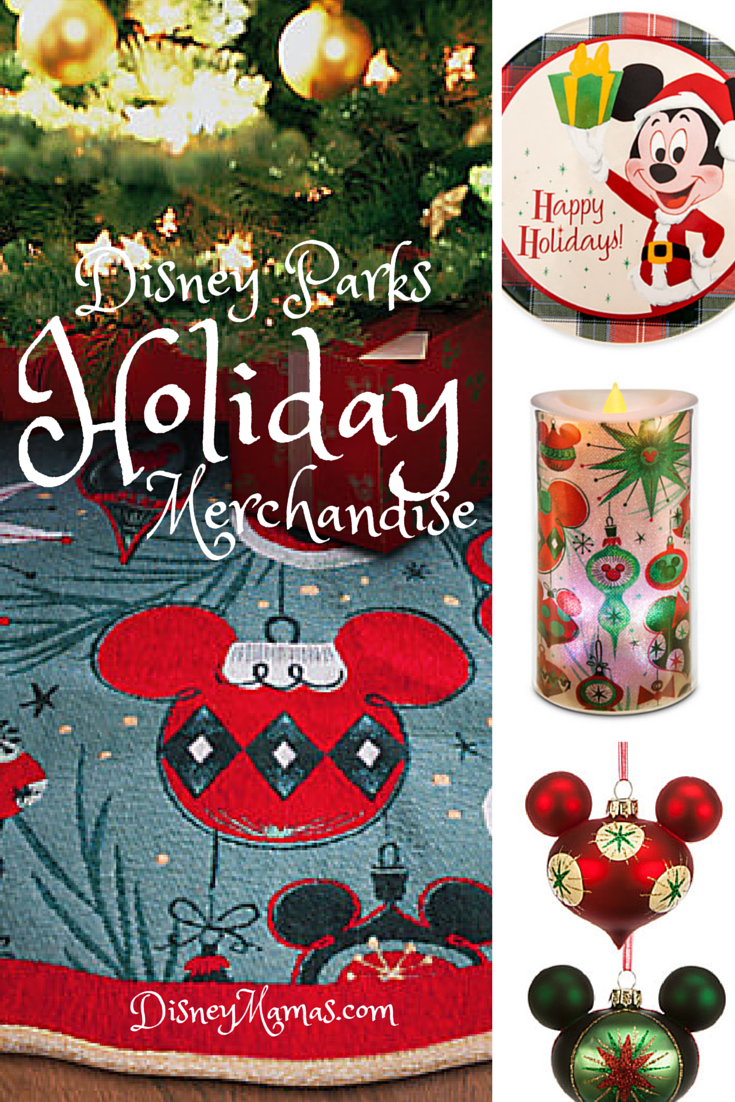 My son has worn the same Christmas pajamas for the past two years, and grew so much this summer that he will definitely be needing a new pair. I love the options for boys for 2014! In addition to the red with white Mickey's that has become a Disney Holiday standard, there are two more options for little boys; a plaid similar to the red and a pair of newly styled PJ Pals featuring Mickey & Pluto. Which would you choose?

We can't forget the ornaments either! If I have one weakness it's ornaments. I but waaaay too many of them (according to my family) and I have no shame. There is just something about a Christmas Tree covered in special ornaments that makes the holidays really come to life! This year my husband and I are renewing our vows at Walt Disney World for our 10th anniversary, so I know this Happily Ever After ornament will be gracing our tree come Christmas, and this Walt Disney World Ears Ornament will be right beside it!

Finally, we can't forget holiday treasures! The holiday toys themselves aren't out yet, but the plush is! One look at this Olaf Holiday Plush and you're a melted puddle. How cute is he!? (Best order him ASAP, as he is bound to be hard to find!) And this Santa Bag will be perfect for transporting beautifully wrapped presents! We've never had one of these, but we will this year! I can't wait to see the toys that Disney comes out with special for the season!

There are so many more beautiful Disney items for the holidays, and I barely, barely scratched the surface! Take a look at the online store and let me know what item(s) you are most impressed with! I can't wait to hear from you!
Note – I am not sponsored or affiliated with Disney Store, Disney Parks or DisneyStore.com. This is not a sponsored post. I'm simply a mom who really, really loves Christmas!